Sinto America Completes Another Turn-key, Foundry Engineering & Consulting Project
June 22, 2020
Grand Ledge, MI June 22, 2020
Sinto America is excited to announce they have successfully completed designing a turn-key, foundry engineering and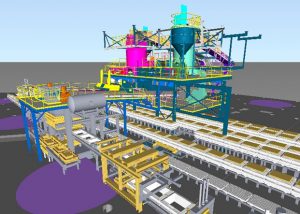 consulting project on the east coast for a heavy equipment manufacturer. This is the latest of thousands of successful engineering, design and complete turn-key solutions Sinto America has been providing to foundries for over fifty years.
Learn more here.
The heavy equipment manufacturer choose Sinto America's Engineering and Consulting team to help them refine their process, develop the project scope, solicit and integrate many vendors solutions, provide final recommendations and ultimately generate a project plan, drawings and a firm budget that the Customer could confidently present to their executive leadership team. If approved, this project is estimated to break ground the second half of 2020.
Sinto America's Engineering and Consulting Services:
Engineering & Design
Concept Drawings
Equipment Specifications
Budget and Firm Project Proposals
Full Design-Build-Install Project Management
Construction Management
Silica Permissible Exposure Limits Review and Suggestions
Vendor RFQ Development and Review
Used Equipment Review
Capital Planning Budgets
Install, Start Up and Service
Once the project was completed, the Customer's Project Leader commented on Sinto's team- "Thank you for all your team's efforts to help us over the past few months. There has been a tremendous amount of effort from your team and the responsiveness and communications have been very impressive. I appreciate your team's engagement as we try to optimize the cost/benefits for this project in order to set it up for success at the Executive Office level of approvals. We genuinely appreciate this partnership with Sinto and all the value that you add to our business as a supplier."
Sinto appreciates this engineering order, the customer's confidence, and the opportunity it brings to build another world class foundry and grow a successful foundry partnership.
Want to know more about Sinto's Foundry Consulting Services?