OXGRIT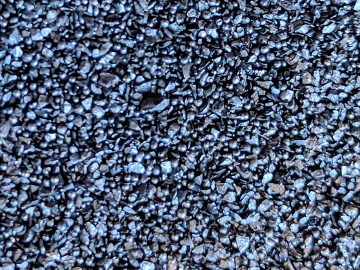 View Gallery >
OXGRIT is an engineered blasting abrasive products designed to outperform existing abrasives.
FEATURES:
Derived from Duramax crude products
Non-ferrous products that are higher density than natural flags, aluminum oxide and garnet products
Heavier than all other common abrasives with the exception of steel abrasives
Longer life than any other abrasive with the exception of cast steel abrasives, grit & shot
Magnetic and can be used with magnetic reclamation equipment commonly used in industry
Fast cleaning & cutting products, ~30% higher production rate versus garnet media
Low-dusting and generate less dust than other abrasives in the industry. The long life and low consumption are interrelated to this characteristic.
APPLICATIONS:
General surface preparation
Coating removal
Blast cleaning
Scale removal
STANDARD SIZES:
36 Grit, 3+ MIL. R Max PROFILE
60 Grit, 2+ MIL. R Max PROFILE
80 Grit, 1+ MIL. R Max PROFILE
STANDARD PACKAGING:
25 & 50 lb. bags on 2,000 lb. pallet
2,000 & 3,000 lb. supersack on pallet
Other packaging options available upon request
Physical Properties
| Range | |
| --- | --- |
| Bulk Density (compacted) | 2200 kg / m³ |
| Bulk Density (loose) | 2000 kg/m³ |
| Specific Gravity | 3.4 |
| Hardness (Mohs) | 7 |
Chemical Properties
| | DURAMAX, HD, %* |
| --- | --- |
| Silicon Oxide (SiO₂) | 24 |
| Aluminum Oxide (Al₂O₃) | 6.3 |
| Iron Oxide (Fe₂O₃) | 55.2 |
| Calcium Oxide (CaO) | 1.6 |