Cast Products Mold Handling System by Sinto
June 1, 2018
In the 3 years since installing Sinto's Mold Handling System to accompany their FBO Molding Machine, they have seen a dramatic improvement.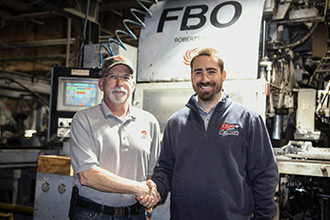 Mr. Colby Medlen, COO, explains that in the past, as molds were transferred onto the rail cars or up to the pouring deck, vibrations would occasionally cause breakoff and defects inside the mold that were difficult to see. They would only notice the cracks and breakoff after pouring out the castings, and the castings required hand filing or extra grinding work just to be clean enough to be sent down the production line. For that reason, on top of their five-week lead time, they were running behind on many jobs, resulting in a total wait of up to nine weeks.
To resolve this issue, CPI decided to install a new molding line. They considered several companies but ultimately decided to go with Sinto. As Mr. Medlen explains, "Sinto has always been straight-forward with us. They've always stood behind their products."
In the 3 years since installation of the Sinto molding line, CPI has seen a dramatic improvement in their operations. Firstly, they are able to run all of their operations on time, and they no longer have to extend lead time for orders. They are able to meet all of their customers' schedule dates, and even bring orders in in expedited form. In addition, their products now come out of the production line looking like the pattern, decreasing the amount of time needed for finishing and flowing through production much faster than before. When CPI salesmen visit customers nowadays, they are asked, "What did you guys do? What is the difference here?"
Five to ten years ago, CPI did not have one customer who thought of them as their top supplier, but over the past couple of years, they have become the named top supplier for two of their customers. This, according to Mr. Medlen, is a big difference after installation of the Sinto line. They have also been able to greatly improve their finishing costs.
Sinto helps their customers through any issues they might have.
Mr. Medlen also has great things to say about Sinto's service team. CPI uses equipment from other manufacturers along with the Sinto equipment, but he says that Sinto's service is "a step above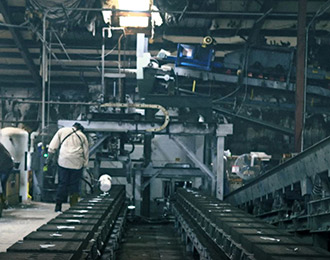 everybody else". The quality service staff that come on site help them through any issues they might have. There have been minimal problems, but on the occasion that they do occur, there has been a clear line of communication with Sinto, making them very easy to work with.
From that point of view, Mr. Medlen explains, and when your company is trying to avoid risk and downtime, you should choose Sinto.
Company Profile
Name: Cast Products, Inc.